Search the Entire World
Items for Sale
Remove the 100-mile boundary
FAQs
The website is not working
The site works best on google chrome and you must be logged into Facebook to view marketplace listings.
I don't see many results
Try switching the slider on Marketplace to 500 miles before performing a search.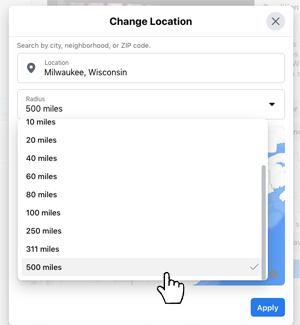 I only see results once
You must return to searchworldmarketplace.com to perform a second search.
How do I receive an item that is far away?
Items can be shipped with shipping carriers like USPS and Fedex.
What about payment?
Facebook offers payment services however paypal is recommended with buyer protection.
Can I trust the sellers?
This is up to your discretion, especially if you are asking a seller to ship an item to you sight unseen.
Who made this website?
Nathan Johnson - Milwaukee, Wisconsin. See contact page
How did you do it?
A top secret algorithm
Are you affiliated with facebook?
Search World Marketplace is not at all affiliated with Facebook